Road Information Exchange
Road Information Exchange
Overview
The Transnomis Road Information Exchange offers a path forward to a complete collection of road closures, obstructions, restrictions, conditions, incidents, and events for all travellers. It is the solution to the road information puzzle (see image below) faced by too many stakeholders.
Emergency responders, truckers, traffic managers, project managers, and others need real-time road information in their navigation applications to arrive on time, and to reduce project, event, and incident conflicts. Their challenge is to make sense of road information, shared by each authoritative source, in text-only emails, social media messages, and webpages. This archaic approach to sharing mission-critical data needs to be replaced!
Open data is often identified as the solution, but it forces every other stakeholder to develop technical solutions to consume each data source. Few agencies have the money or human resources to do this.
The answer is an authoritative "road information exchange", and good governance. In Ontario, Canada, the Ontario Road Information Exchange (ORIE) (powered by Transnomis) connects about half of Ontario municipalities with emergency responder applications, navigation applications, GIS and Municipal511. It is governed by the Ontario Good Roads Association (OGRA) Ontario Road Information Exchange (ORIE) Governance Committee, and it is made up of municipal roads, traffic, transportation and IT professionals, a private highway operator, and emergency responder and trucking associations.
The Transnomis Road Information Exchange is a service offering for counties, regions, districts, provinces, and states that wish to achieve what is being achieved in Ontario, Canada.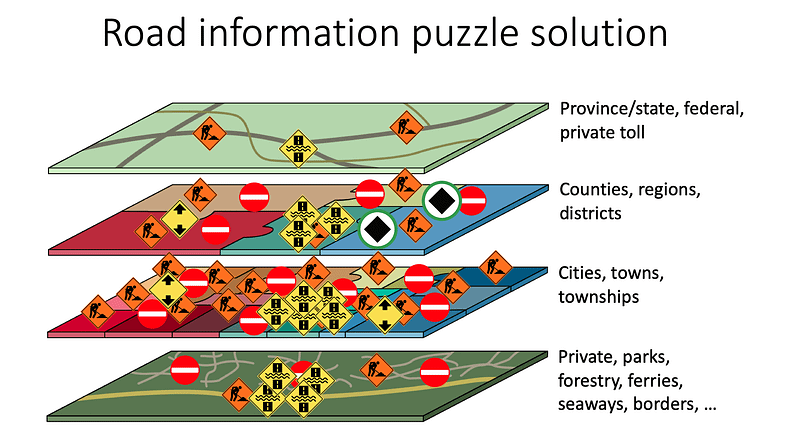 Additional Details
The Transnomis Road Information Exchange service offering is based on the Municipal511 road information management and communications service. Municipal511 clients have all the benefits of the Road Information Exchange.
Even though Municipal511 was rapidly adopted across the province of Ontario, there were still gaps. In many of these gaps was a city managing their road information using their GIS, and they did not want to change how they managed their road information. A simpler "exchange only" offering was introduced, allowing these cities to share and consume road information from their own GIS (or other application). As an added benefit, their road information is also presented in the Municipal511 public website, which they could embed in their municipal website.
The Exchange can consume a variety of data formats, including the Transnomis Municipal511 Exchange API. This advanced API supports the road issue types (e.g., projects, events, incidents, routes, restrictions, cautions, conditions), multiple road segments per issue (e.g., project location and detour route), and the impacts of the issue (e.g. Road Closed – No Emergency Access and Alternating Traffic). Exchange clients consume this data-rich road information and present it however they wish to in their applications.
Key Outcomes
Regional, provincial/state road information exchange
Reduced road information consumption and distribution costs
Improved navigation application guidance
Improved situational awareness every day, and during emergencies
Reduced emergency response times
Reduced infrastructure damage
Reduced project, incident, event, and permit conflicts
Improved permit application processing times
For more information, please use the contact form below.