Municipal511
Municipal511
Overview
Municipal511 has forever changed the way municipal road information is communicated!
One of the changes is how road information is presented in municipal websites. Many municipalities embed the Municipal511 public map (see below) into their website. Visitors are presented with a map view of what is happening on all of the roads in and around the municipality, with what is planned for the next seven days.
Nearly all municipal road information published in Municipal511 is shared electronically with consumer and commercial navigation applications. Doing so supports road information being presented in the applications used by emergency responders, truckers, citizens, bus companies, utilities, and connected vehicles.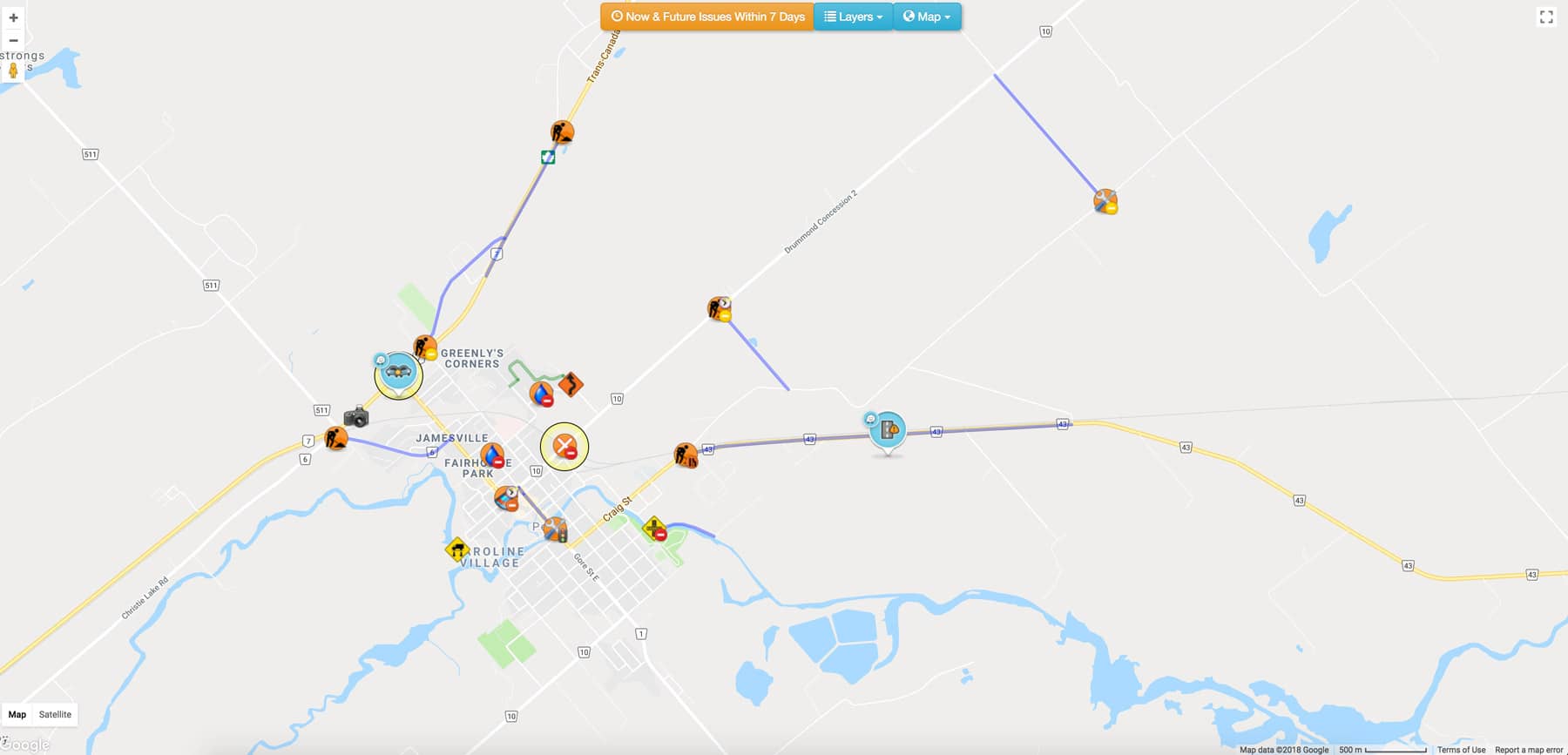 Push email notifications (to emergency responders, news agencies, and other road departments) include a map showing where the issue is taking place. They also include web links to the public map and the Municipal511 application, where stakeholders can see the impact of all issues, from all road managers.
Municipal511 is easier and faster than sending a text-only email!
Here's an example of the Municipal511 public website embedded in another webpage. You choose the map's zoom levels; where the map is centred; the displayed content (types of issues, etc.); and the displayed language.
To access the Municipal511 public map, 
click here
.
Additional Details
Municipal511 is a comprehensive map-based road information communications and management service for municipal public works departments.
It also serves as a common operating picture (COP) for emergency response teams and management, that gets used during emergencies because is it used every day. A client received two national public safety awards for their implementation of Municipal511.
The web app works on mobile phones, tablets, desktops, and display walls – all without having to install and maintain software.
Communications channels include the public map (www.Municipal511.ca), push email notifications, data feeds to navigation and responder applications, and the common operating picture included in the client application.
Road issues supported include current and future road closures, construction projects, special events, load restrictions, truck routes, road conditions, and significant weather events. Issues may include multiple segments (e.g. construction zone(s), detour route(s)), and the impact of the event (e.g. road closed – no emergency access, alternating traffic).
The public safety common operating picture supports emergency responders and managers during major incidents and events. The public website has been used to present flooded areas, sandbag filling station locations, emergency health locations, and fire bans.
Municipal511 can be personalized with the addition of private map layers, data integrations, and the Municipal511 Permit add-on.
If you already map your road information, and simply want to leverage the public map and data exchange services, you may be interested in our Road Information Exchange.
Key Outcomes
Time saved communicating road information.
Time saved aggregating and mapping road information.
Improved situational awareness.
Faster emergency response times.
Faster delivery times.
Reduced road work and event conflicts.
Reduced infrastructure damages.
For more information, please use the contact form below.