Whitby, Ontario – Want to check your route for traffic issues before hitting the road? Durham Region's Traffic Watch map is a live, interactive tool that shows issues that may affect your travel throughout Durham Region.
"Traffic Watch is a useful tool for residents who are looking to find better routes around Durham by avoiding traffic disruptions," says Ramesh Jagannathan, Director of Transportation and Field Services. "Images from traffic cameras are updated every minute, giving users almost real-time view of traffic flow. This is a great tool for planning your commute."
Traffic Watch merges information from the Region, province and local area municipalities within the Region using similar systems. It hosts information about planned construction, as well as unplanned work such as watermain breaks or emergency road closures. The map also details road closures for other reasons, such as street festivals, parades or filming.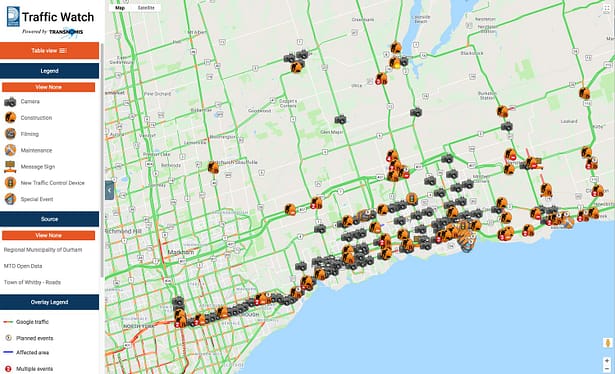 The Traffic Watch map includes:
Road closure details
Construction information
Detours
Emergencies
Live images from Regional and provincial traffic cameras, updated every minute
New traffic signal installations
Special events
Route congestion
Users may modify their view of Traffic Watch by choosing the layers they want to see. Explore the Traffic Watch map online at durham.ca/TrafficWatch.
Source: Durham Traffic Watch